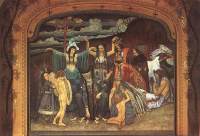 Gödöllő Artist's Colony
Together with his family, Aladár Körösfői-Kriesch spent several summers in Diód, Transylvania. He was particularly impressed by folk-art of the country and the Tolstoyan character of their landlord. After the death of his first child in 1899, he never returned to Diód but Ego sum via, veritas et vita (1903), a picture in the memory of his dead child, portrayed members of the art school there.
Körösfői-Kriesch moved to Gödöllő not far from Budapest in 1901 where he was followed by more and more artists, including Sándor Nagy, his brother-in-law, and they worked as industrial designers, painters and graphic artists. They established a textile school (Puppet Show, around 1907). From that time onwards they regularly worked as field-workers (Cemetery in Magyarvalkó, 1908), and published their collections in several volumes some years later (Hungarian Folk Art). Motifs collected in Transylvania reappeared in their works besides historical (Klára Zách I and Klára Zách II, 1911) and biblical (Ave Myriam, 1904) themes containing symbolic motifs, they presented episodes of Hungarian-Hun legends and folk-tales (Székely Folk-Tales, 1912).
They returned to craftsmanship (Ruskin, Moris) with their art and the way peasants lived (Tolstoy). They were in contact with artists like Walter Crane and Akseli Gallén-Kallela who visited Hungary. They attempted to reform life-styles, eating habits and clothing. When World War I broke out, the art school stopped working, and after the death of Körösfői in 1920, it broke up.
---

Previous page