Stephen's Sarcophagus
The sarcophagus which was initially considered to come from the ancient Rome in the 19th century, was later thought to be a work of art from the 9th or 10th century. In the 1930s it was defined as the coffin of St. Stephen and associated with the funeral of the King (1038). According to the recently accepted view, the sarcophagus was originally an ancient one, and only carvings on it came from the Middle Ages.
Along the left longitudinal axis there is a peculiar form of plant in hollow niches at both ends, probably ancient human figures recarved. Between them there is a field in treble arrangement with cherubs and rosettes.




Along the right longitudinal axis, there are similar ornaments. Rosettes and floral elements alternate in an elaborate way indicating that the master was probably a well skilled one. Creatures with wings reflect great skills at utilising space.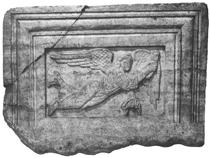 The angel with a baby in a swaddling is the most important element of the short side of the sarcophagus. The angel carrying the soul of the deceased was an element in the upper region of a Byzantine ivory carving which portrayed Mary's death. Cherubs appeared in Eastern European Maiestas compositions first, as far as content is concerned, they can be associated with guards of Paradise. (Thus, the tomb was not simply a house for the body of the deceased, but a picture of its home in Heavens.) The motif of the soul carried appears in the description of how St. Stephen died and the legend of St. Emeric.
When the style of the sarcophagus was thoroughly studied by art historians, they came to the conclusion that it was rather recarved in the year of canonisation (1083) than in the year when Stephen died. Its iconography matches rather the character of the saint than the that of the prince or the king. If less elaborate contemporary fragments of the cover stone can be related to canonisation, it appears to be likely that they served as a tomb for Prince St. Emeric, and the sarcophagus as a tomb of St. Stephen.
---

Previous page