Szolnok Artist's Colony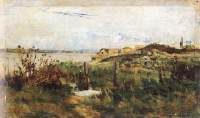 Visits of August von Pettenkofen, an Austrian painter, to Szolnok from 1851 onwards started the first, spontaneous period of the art school in Szolnok. Pettenkofen, who travelled extensively, represented a link between Paris and Central Europe. It was him who attracted the attention of Austrian and Hungarian painters to the style of Szolnok, free of conventions and full of emotions. Dusty landscapes of plains, humid along rivers, created a peculiar greyish tone for his small pictures which reflected the presence of sunshine and warm shadows. It rhymes with the artistic dilemma of the preparatory (so-called fine naturalistic) years of artists of the Nagybánya art school, and also with approaches of contemporary Dutch artists of the Hague school. And as elsewwhere, a more colourful portrayal appeared in Szolnok, too, to make compositions richer by reflecting light in plein-air style.
Lajos Deák-Ébner who worked close to Mihály Munkácsy in Paris, and Gyula Aggházy became so enthusiastic about the experience of Pettenkofen in Szolnok that Deák-Ébner spent his summers in Szolnok from 1875 to 1887 and returned to Paris for the winter only, while Aggházy spent the year of 1876 in Szolnok. Their landscape studies of Szolnok around 1875-78, together with those of Pál Böhm who went to Szolnok only for a short time, were significant early results of Hungarian plein-air. (E.g. Lajos Deák-Ébner: Landscape with Straw Hut, c. 1875.)
The third period Szolnok belongs to the years 1899-1902 of official establishment with Adolf Fényes and Sándor Bihari, key figures of the time. Lajos Szlányi, Dániel Mihalik and Ferenc Olgyay were landscape painters, and Lajos Zombory became well-known as a painter of animals. Although they were all concerned with plein-air, they failed to develop a uniform style of the Szolnok art school, not included in their targets either. Their significance never reached those of the Nagybánya masters, whose art was more uniform and consequent.
---
| Top |